Design Description:
Background: The poster features a clean and futuristic background, symbolizing the cutting-edge nature of the semiconductor industry. The background can have a dark, deep blue or black color with subtle gradients to evoke a sense of depth and innovation.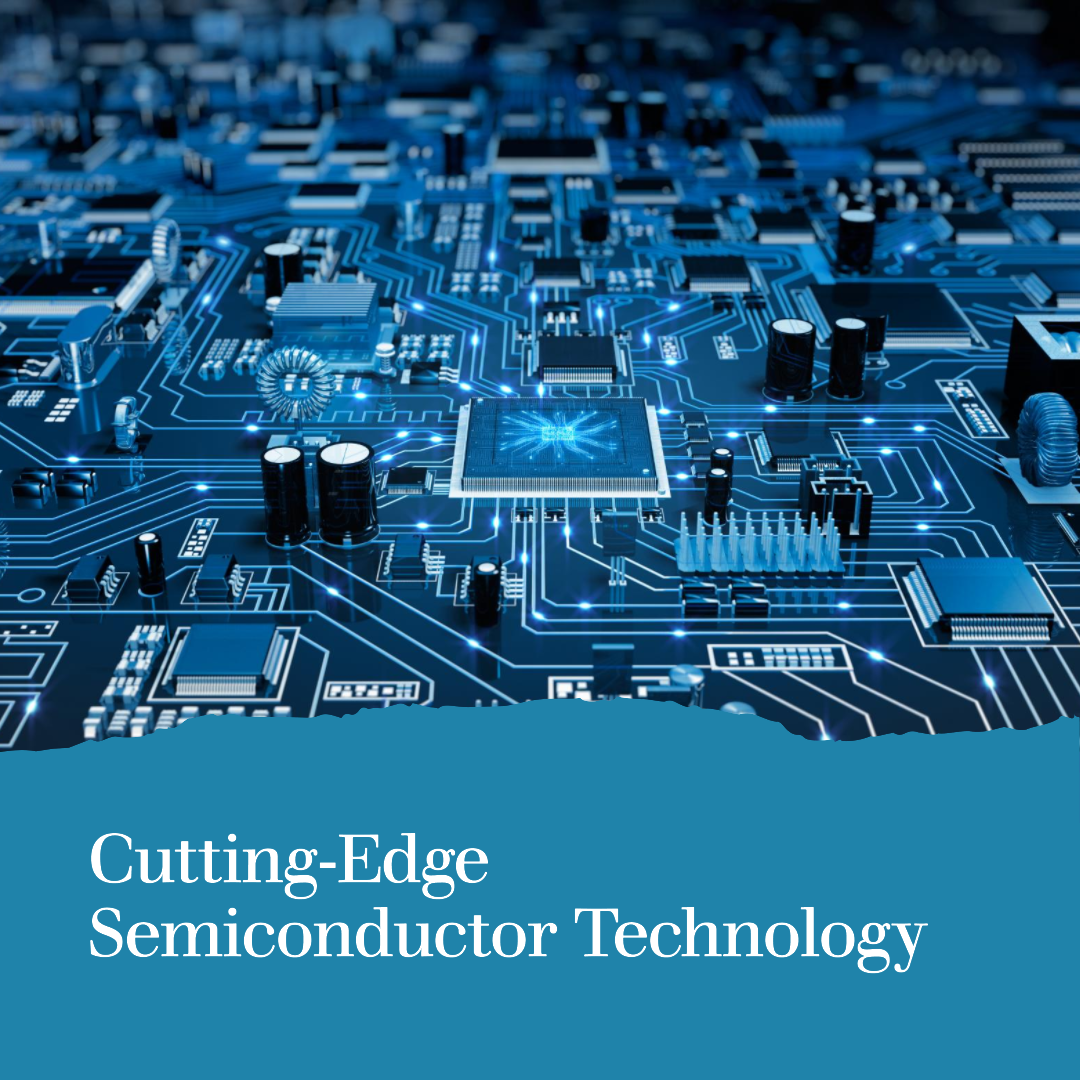 Main Visual Elements:
Semiconductor Wafer: In the center of the poster, prominently display an image of a semiconductor wafer. This could be a high-resolution, visually striking image showcasing the intricate patterns and microelectronics etched onto the wafer.
Microscopic View: Overlay a subtle, semi-transparent image of a microscopic view of a semiconductor structure on the wafer, giving viewers a glimpse into the nanoscale world where semiconductor magic happens.
Icons of Innovation: Surround the wafer with a series of small icons representing key innovations in the semiconductor industry, such as transistors, nanotechnology symbols, and data streams, to convey the industry's significance in technological advancement.
Text Elements: Include the following text elements on the poster:
Title: At the top, the bold and attention-grabbing title "Innovations in Semiconductor Technology" should be displayed in a modern, sans-serif font, using a color that complements the background.
Subheading: Just below the title, add a concise subheading that sets the theme of the poster, e.g., "Powering the Future of Electronics."
Key Points: In a clear and organized manner, present key points or bulletins about the semiconductor industry's contributions, breakthroughs, and importance. Use a font that is easy to read from a distance and incorporate vibrant but professional colors.
Images and Graphics: Integrate high-quality images of semiconductor devices, electronic circuits, and futuristic technology into the design. These images can be strategically placed around the poster to complement the central semiconductor wafer image.
Logos and Branding: Include logos of prominent semiconductor companies and industry associations to reinforce the poster's credibility and industry connections.
QR Code: Consider adding a QR code in a corner of the poster that, when scanned, directs viewers to a website or additional resources related to the semiconductor industry.
Color Palette: Use a balanced color palette that includes shades of blue, silver, and green, which are often associated with technology and innovation. Ensure that the colors are harmonious and do not overwhelm the viewer.
Layout and Composition: Maintain a clean, organized, and visually appealing layout. Arrange the elements in a way that guides the viewer's eye naturally from the title and subheading to the main content, allowing for an easy flow of information.
Size and Format: Design the poster in a standard size suitable for presentations and exhibitions, such as 24″ x 36″. Ensure that the poster can be easily printed and transported for various industry events.
Overall, this poster aims to capture the essence of innovation, precision, and technological advancement that define the semiconductor industry, while presenting information in an engaging and visually appealing manner.